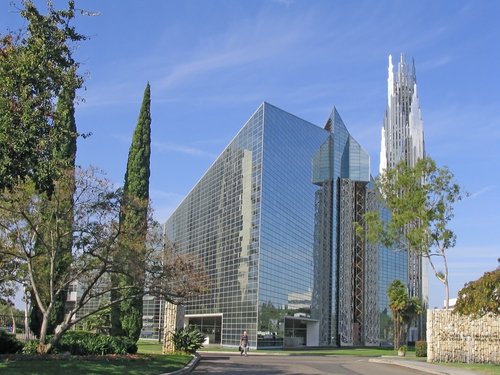 The Diocese of Orange has offered $50 million to purchase Crystal Cathedral, the 3,000-seat Protestant church built by televangelist Robert Schuller. (Pictured here) Below is a statement by Orange Bishop Tod Brown. What do you think of this plan?
Continuing the lay-inspired effort to seek a pragmatic alternative to construction of a new cathedral, the Roman Catholic Diocese of Orange has submitted a formal bid for the Crystal Cathedral, adjacent campus property, buildings and memorial grounds. The all-cash offer to purchase has been presented to Crystal Cathedral Ministries (CCM) Counsel and CCM Board of Directors.

"Regardless of the final outcome, this offer and its enabling process are important developments in the history of the Diocese of Orange. The vision, skills and eloquence of the many lay advisors I rely upon for counsel have resulted in a bid that respects the legacy Rev. Schuller worked so hard to establish. Our offer also clearly accommodates future diocesan needs for a cathedral and modern administrative campus," said The Most Reverend Bishop of Orange, Tod D. Brown.

Following review of the offer by the CCM Board of Directors, the diocesan plan would be presented to the Committee of Creditors and the Bankruptcy Court. The offer is straightforward and would provide creditors maximum relief in the shortest possible time. If the proposal is accepted, creditors could see resolution within the year and possibly sooner.



The $50 Million cash offer calls for an immediate deposit of $250,000 and a secondary payment of $750,000 once certain achievements have been recorded. Should CCM elect to maintain an active ministry and utilize some campus assets for an interim period following acceptance of the diocese offer, a lease-back provision at below market rates would be available to CCM. As shared use of the CCM property would eventually terminate, the diocese offer further specifies an option to facilitate relocation of some CCM religious, educational and administrative departments to a nearby diocesan venue. With the diocese's own long term cemetery experience, a specific provision provides for excellent ongoing care of the Memorial Garden and ancillary interment sites.

Should the Diocese offer be accepted by the CCM Board, creditors and the court, resolution could be completed by year-end. During that time, the Diocese would attend to the many necessary steps required to consecrate the buildings and property for use as a Catholic cathedral and worship site, move key diocesan operations to the Garden Grove campus and assist CCM with the possible relocation of some CCM activities to a diocesan venue also located in Garden Grove.
"When I first heard of their financial difficulties, I was distressed. Crystal Cathedral Ministries has been a valued religious resource for many, many years in Orange County and, through the Hour of Power, around the globe. Like our own Mission San Juan Capistrano, its historic and cultural links are important to Orange County. Under this plan, we hope that that ministry can continue. Dr. Schuller built up this ministry from the humble roof of a drive-in snack stand, and that constant faith in God's providence, I believe, will sustain their community through these current trials. The Crystal Cathedral underscores the vitality of faith in our modern society and with our offer we will enable this beacon of faith to continue to influence others as an important place of worship," Bishop Brown concluded.