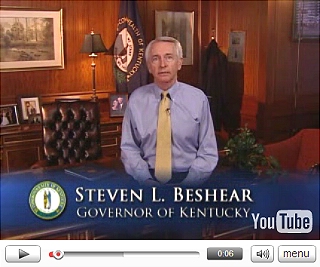 University Hospital has a "public mission" to provide a full range of health care and that mission must continue even if it merges with a Catholic health system that forbids certain reproductive services, Gov. Steve Beshear said Wednesday.
Beshear's comments came after a closed-door meeting at the Capitol with Louisville and state officials and representatives of three hospital systems planning the controversial merger: University, Jewish Hospital & St. Mary's HealthCare, and Lexington-based St. Joseph Health System, owned by Denver-based Catholic Health Initiatives.
Though officials shared few specifics, CHI representatives said more details will be released in the next few days about how the new entity will ensure that its patients can get reproductive care, such as sterilizations, that's not allowed under Catholic health directives.
"We had good meeting," Beshear said. "We public officials have concerns about the public mission of U of L Hospital. … Overall, what we want to make sure of is the public mission of U of L Hospital remains the same."
Beshear said "it's too early" to make any decisions on the merger, which must be approved by his office in order to go forward.
The merger would also need approval of the Federal Trade Commission, which state Attorney General Jack Conway said Wednesday had asked his office to comment. Since the attorney general's consent for the merger isn't required in Kentucky, the FTC is seeking his input as part of their review, said Conway spokeswoman Allison Martin.
The FTC is looking at several issues, including the effect on competition, what happens to state assets if the merger takes place, and how services continue so consumers are protected, she said.
University Hospital's building and land are owned by the state for the benefit of U of L, and it is managed by University Medical Center Inc., a private, nonprofit corporation. The hospital received $61 million from the state and $7 million from the city last year for indigent care.