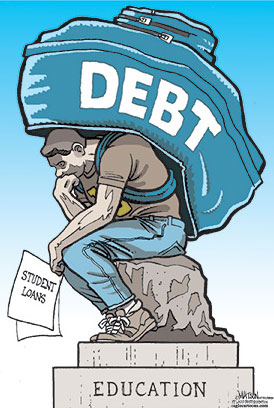 The class of 2010 took on 5 percent more debt to pay for their college education
(WNS)--Last year's college graduates left school with an average of $25,250 in student loan debt, a 5 percent increase over their predecessors.
The increase in debt load, reported by the Project on Student Debt, comes just weeks after the College Board announced an 8.3 percent rise in average in-state tuition at the nation's public colleges and President Barack Obama unveiled measures designed to lower students' financial burden.
But according to the report released today, an estimated 22 percent of the class of 2010's debt came in the form of private loans, which will not be not affected by the president's plan.
Average debt amounts and the percentage of students graduating with some level of debt vary from state to state. Students in New Hampshire had the highest average debt - $ 31,048. Students in Utah had the lowest - $ 15,509. Three-quarters of students in South Dakota graduated with debt - the highest percentage in the nation. While only 38 percent of students in Hawaii started their working life with loans to repay.
Overall, about two-thirds of the 2010 graduating class took out loans to pay for their schooling.
Of the major Christian colleges, students at Liberty University graduated with the highest average debt - $32,936. Seventy percent of Liberty's 2010 graduates took out loans. Students at Bethel University, in Minnesota, left school with slightly less average debt - $32,698 - but 78 percent of them had to borrow money to pay for their schooling. Only half of graduates from Wheaton College, in Illinois, and Grove City College, in Pennsylvania, took out loans, but they left school with an average of $21,241 and $25,773 in debt.
Frustration over the cost of education and the prevalence of student loans have helped fuel the Occupy Wall Street protests around the country. But education advocates insist a college degree remains a worthwhile investment. Advisers encourage students to work as much as possible during college to offset the amount of money they need to borrow.
The Project on Student Debt is affiliated with California-based TICAS, or The Institute for College and Success, an independent nonprofit that promotes higher education access and affordability.