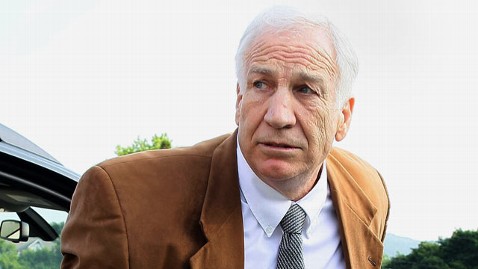 CBS Philly
BELLEFONTE, Pa. (CBS/AP) —
The jury in Jerry Sandusky's child sex abuse trial has found him "guilty" on 45 counts and "not guilty" on three counts. His bail has been revoked and he was handcuffed and sent to the Center County Correctional Facility.
The 68-year-old former Penn State assistant football coach fought 48 counts that accused him of abusing 10 boys over 15 years.
Word of a verdict broke at about 9:30 p.m. and a court official alerted the media it would be returned at about 9:50 p.m. The courtroom was closed by the time the jury and attorneys assembled for the verdict, and no one was be allowed to leave until court until it was adjourned, the judge said in a court order earlier in the week. The verdict was read count by count. Media was barred from transmitting any results of the verdict until adjournment, with the judge promising sanctions for any reporter or media organization violating his order.
After learning about the verdict, Pennsylvania Governor reacted in a statement saying, ""First, I want to thank the jury for their willingness to serve on such a difficult case,'' Corbett said. "I also want to commend the multiple victims in this case who had the courage to come forward and testify in court, confronting Sandusky, and proving beyond a reasonable doubt that he is guilty of these reprehensible crimes,'' Corbett said.
Earlier in the evening, Sandusky's lawyer said he would be shocked and "die of a heart attack" if the former Penn State assistant football coach were acquitted on all counts in his child sex abuse trial.
The candid remarks by Joe Amendola lasted about 15 minutes inside the courtroom and opened a wide window into Sandusky's state of mind as he and his wife, Dottie, waited for a verdict.
Jurors began deliberating the case Thursday and talked all day Friday.
Amendola said the Sanduskys were spending a lot of time praying. He described the atmosphere at their home as like a funeral.
The couple was "crushed" Thursday when lawyers for one of their sons, Matt Sandusky, said the 33-year-old had been prepared to testify on behalf of prosecutors, Amendola said. Matt Sandusky said his father abused him, his attorneys said.
Amendola said he wasn't surprised by another man, Travis Weaver, who claimed during an NBC interview Thursday that he was abused by Sandusky more than 100 times in the early 1990s, or by any others who might come forward.
"Money does a lot of bad things to people," he said.
As for Sandusky and his family, Amendola said he has given them an objective appraisal of what they could expect.
"I've used the best example I could use: climbing Mount Everest from the bottom of the mountain," he said. "It's a daunting, daunting case."
He also said that Sandusky had his wife talk to a criminal defense lawyer a couple months ago "just to be careful."
Amendola's interview ended when he was summoned into the chambers of Judge John Cleland, who presided over the two-week trial. Cleland has issued a gag order barring lawyers from discussing the case.
The verdict will impact not only Sandusky and the eight young men who accused him of molestation, but a range of civil and criminal probes of the scandal that shamed the university and brought down coach Joe Paterno.