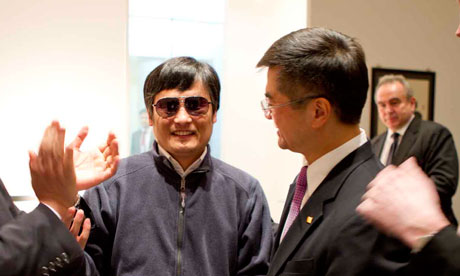 BEIJING, May 2 (Reuters) - Blind Chinese dissident Chen Guangcheng told journalists he feared for his life and wanted to leave China on Wednesday, throwing into chaos an agreement between the United States and China under which he would have remained in the country.
Guangcheng earlier left the U.S. Embassy in Beijing after a six-day stay after securing guarantees that, according to U.S. officials, would have allowed him to relocate within the country in safety with his family and pursue his studies.
Accepting that outcome, which was excruciatingly negotiated between the United States and China, entailed some risk that the Chinese authorities might not live up to the guarantees, and the dissident appeared to have a change of heart about his chances.
Within hours of his release to a Beijing hospital and being reunited with his family, Chen gave interviews saying he feared for his life after he learned of the way his wife had been treated.
"He wants to leave and he wants to leave as soon as possible," a CNN reporter said on air, saying he spoke to Chen for 15 to 20 minutes by telephone and the activist, who opposed forced abortions in China, felt "let down" by the United States.
The CNN reporter said Chen told him that while he was at the U.S. Embassy he was not given the full story. He had since spoken to his wife who told him she was mistreated by Chinese authorities and they now feared for their safety.
"He wants to leave China. If he stays here he says he will not live," the reporter said of Chen, a self-schooled legal advocate who campaigned against forced abortions under China's 'one child' policy." He escaped 19 months of house arrest, during which he and his family faced beatings and threats, in rural Shandong province on April 22.
CHINA DEMANDS APOLOGY
Earlier, U.S. officials and Chinese officials said Chen left the embassy of his own free will after days of negotiations between the two governments. U.S. officials said that Chen wanted to remain in China and that he never asked for asylum.
Chen's dramatic escape from house arrest last week and his flight to the U.S. Embassy have made him a symbol of resistance to China's shackles on dissent, and the deal struck by Beijing and Washington would have kept him an international test case of how tight or loose those restrictions remain.
Now, however, his apparent change of heart throws not only his own future into doubt but also raises questions about the wider U.S.-China relationship as the U.S. secretaries of state and treasury arrived in Beijing for security and economic talks.
It could also prove politically costly for U.S. President Barack Obama, who has already been accused of being soft on China by Republican presidential candidate Mitt Romney and who could now face further criticism over Chen's case.
What initially appeared to be a foreign policy success for the Obama administration -- defusing a problem that could have harmed ties between the world's two largest economies -- could quickly turn into a liability.
U.S. Secretary of State Hillary Clinton, who had arrived in Beijing for long-scheduled, high-level economic and security talks hours before Chen's departure from the U.S. Embassy, earlier hailed the agreement.
"I am pleased that we were able to facilitate Chen Guangcheng's stay and departure from the U.S. Embassy in a way that reflected his choices and our values," Clinton said.
"(Chen) has a number of understandings with the Chinese government about his future, including the opportunity to pursue higher education in a safe environment. Making these commitments a reality is the next crucial task. The United States government and the American people are committed to remaining engaged with Mr. Chen and his family in the days, weeks and years ahead."
But China angrily accused the United States of meddling and demanded an apology for the way U.S. diplomats handled the case.
Bob Fu, the president of Texas-based religious and human rights group, ChinaAid, said Chen agreed to leave the embassy only because "serious threats to his immediate family members were made by Chinese government" if he refused the government's offer. Dissident Hu Jia said his wife Zeng Jinyan had spoken to Chen's wife, who also spoke of threats from the government.
Fu of ChinaAid, which has been a key source of information about Chen since his escape, said the group was very concerned about reports from what he called "reliable sources" that Chen's departure from the embassy was involuntary. "Relevant reports show unfortunately the U.S. side 'has abandoned Mr Chen,'" Fu said in a statement.
U.S. officials denied that they had discussed any threats to Chen's family, saying Chinese officials had not discussed any threats with them, and said they had acted to secure his wish to remain in China and continue his work.
The drama over Chen threatens to overshadow this week's U.S.-China talks.
Quite apart from the importance of developing ties between the world's two largest economies, both governments are aware of the impact the case could have on their domestic politics.
Later this year, U.S. President Barack Obama will seek a second term, knowing that his Republican foes are already accusing him of being too soft on China. They may now criticise him for not doing enough to ensure the activist's safety.
Also later this year, China's ruling Communist Party will bring in a new set of leaders, a normally well choreographed process that has been wrong-footed by a scandal enveloping senior leader Bo Xilai. That too was triggered after a senior Bo aide sought refuge in a U.S. diplomatic mission.
Some analysts said that issue appears to have divided the top leadership and may have upset hardliners who want to keep a firm lid on any thing they see as undermining party rule.
CHINESE PUBLIC ANGER
The Chinese Foreign Ministry's first public reaction to Chen's was anger. "The U.S. method was interference in Chinese domestic affairs, and this is totally unacceptable to China. China demands that the United States apologise over this, thoroughly investigate this incident, punish those who are responsible, and give assurances that such incidents will not recur," ministry spokesman Weimin said in a statement.
Censors were still blocking searches for Chen's name on China's wildly popular Twitter-like service Weibo, but many people were able to skirt restrictions by simply calling him "the blind lawyer."
"I've beaten the censors to find out about this great event - respect to the blind lawyer," wrote one user.
"The blind lawyer has broken out from the stockade to freedom. So gratifying," added another.