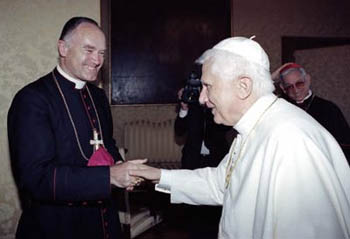 (Catholic Culture) The head of the traditionalist Society of St. Pius X (SSPX) was in Rome this past weekend for talks with the Ecclesia Dei commission, in what may have been the final steps toward a reconciliation with the Holy See, the Vatican Insider reports.
Bishop Bernard Fellay spoke with officials of the Ecclesia Dei commission about modifications of the "Doctrinal Preamble" that has been proposed as the basis for a reconciliation. That document will now be assessed at a May 16 meeting of the full Congregation for the Doctrine of the Faith. On the basis of that congregation's report, Pope Benedict XVI is expected to make a final decision on the matter by the end of this month.
Bishop Fellay's meetings with the Ecclesia Dei commission reportedly yielded a positive outcome, and Vatican officials have expressed a high degree of optimism that the SSPX will soon be reconciled. More worrisome, however, have been reports of severe divisions within the traditionalist group, which could precipitate an internal fissure within the SSPX if the agreement with the Vatican moves forward.