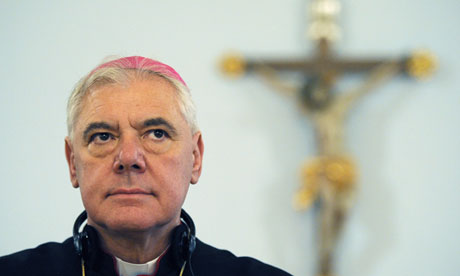 (Catholic Culture) The Vatican's publishing house has released a book by the new prefect of the Congregation for the Doctrine of the Faith. The book is devoted to Pope Benedict's controversial 2006 Regensburg address on faith, reason, and the university.
Archbishop Gerhard Ludwig Müller was bishop of Regensburg at the time of the address.
"At the lesson in Regensberg Benedict XVI once again highlighted the syntheses of faith and reason and of freedom and love – four concepts that today's secularized world would like to claim for itself, while at the same time refusing to recognize the Church's right to present herself as a meaningful source of life," Archbishop Müller writes in Ampliare l'orizzonte della ragione. "Those who do not believe in Christ as the one mediator of salvation are proud of it and accuse the Church of the constraint of consciences and of spiritual imperialism. However whenever Christians and their choice of faith are involved, this tolerance, raised to the absolute in a pluralistic vision of the world, is lacking."
Archbishop Müller adds:
Relativism applied to the truth is not only unphilosophical reasoning but indeed inevitably results in intolerance of God. The central pronouncements on God, Jesus Christ and the Church are considered, at most, as the subculture of a religiously motivated group. God becomes an "ideal," to be used for the edification or education of humankind. Jesus Christ becomes a particularly suitable "case" to serve as a model for society's morals, and the Church is a voluntary union of people who have gathered together (similar to an association), with their own subjective opinions on religion.