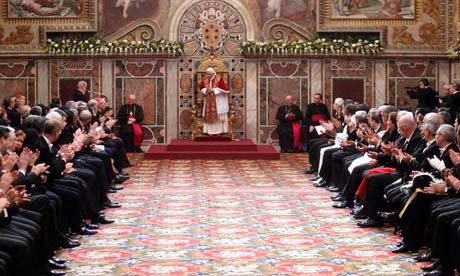 (The Guardian) Pope Benedict XVI has made a fervent appeal for religious tolerance and an end to discrimination against Christians, two weeks after the lethal Christmas Day bombing of a church in Nigeria.
He told an annual reception for diplomats in the Vatican on Monday: "In many countries, Christians are deprived of fundamental rights and sidelined from public life; in other countries they endure violent attacks against their churches and their homes."
In an apparent reference to the exodus of Catholics from Muslim countries in the Middle East, Benedict said: "At times [Christians] are forced to leave the countries they have helped to build because of persistent tensions and policies which frequently relegate them to being second-class spectators of national life."
At least 15 people were killed on 25 December when a bomb exploded outside a church in Madala, a satellite town of the Nigerian capital, Abuja. An Islamist sect that aims to impose sharia law claimed responsibility for the attack. The Boko Haram group was also blamed for two other blasts in the north.
Benedict singled out the Christmas bloodshed for special mention, along with the assassination last March of Shahbaz Bhatti, Pakistan's only Christian cabinet minister. The pope said Bhatti, a Roman Catholic, had waged "an untiring battle for the rights of minorities".
Repeating an appeal he made last year at an inter-religious meeting at Assisi in central Italy, Benedict said religious leaders needed to make clear "firmly and forcefully" that religiously motivated terrorism was "not the true nature of religion. It is the antithesis of religion and contributes to its destruction."
He said, however, that 2011 had also brought "encouraging signs in the area of religious freedom". One had come from the European court of human rights, which upheld the presence of crucifixes in Italian school classrooms, the pope said.
The Holy See has diplomatic relations with 179 nations. But its international status was dealt a stunning blow in November when Ireland, a country with a long Catholic tradition, closed its embassy to the Vatican.
The closure followed a row earlier in the year over Rome's handling of clerical sex abuse cases. The pope made no reference to the affair in his speech, but noted instead that last year had seen the opening of relations with Malaysia and the start of talks on diplomatic recognition with three other countries.